Pick Your Favorite Holiday Tradition - We'll Show You Your Perfect Case
It's the season you've been waiting all year for! The holiday season is warm and inviting. It is absolutely filled with cheer and positive thoughts. You get to see family you haven't seen in a while, give gifts to others, and eat a lot of food before the year is out. One of the best ways to show off your love for the holiday season is to match your style to it. This is especially true when it comes to your choice of phone case. Luckily for you, we have some of the most perfect options to help you express your style this year. So read on for our top picks of the season!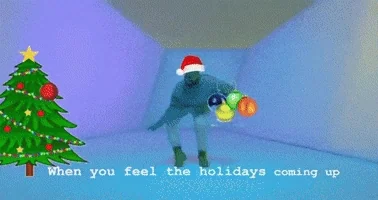 Sleek Black V Marble Case
If you really want to get someone's attention this year, you can't go wrong with our Sleek Black V Marble Case. This pointed look works well with your favorite black dress. You can also pair it with your sharpest professional blazer. The V draws the eye and makes all your ensembles pop. This design is currently available for iPhone devices. For another sleek find for Samsung, consider our Rainbow Stripes Color Block Case.
Light Blue Skies Marble Clouds
For many, the holidays are about relaxing. It is a chance for us to disconnect from our buys lives and take things a little slower for once. That feeling is what our Light Blue Skies Marble Clouds case is all about. This soft, light blue design is both dreamy and fun. In addition, the color works well for the coolness of winter. Currently, this look is only available for iPhone users. For those with a Samsung device, check out our Land and Sea Marble Swirl design that is equally as relaxing. Better still there are now gorgeous cases similar to this for your Samsung Note 10 and 10 plus!
Cute Rose Gold Floral Mandala Clear Case
When you are trying to look your best for the holidays, sometimes you have to embrace a regal flair. Silver and gold are all around you and you can't help but put a little shine into your outfits. If this sounds like you, our Cute Rose Gold Floral Mandala Clear Case is a must have. The rose gold in this case is always a classy choice. Plus the rich pattern will give any look more depth and intrigue. You can find this design for iPhone devices. For Samsung devices, try our Geo Rose Gold Marble Case for shine and texture this year.
Final Thoughts...
Now that you know what our top phone case picks are for the upcoming holiday season, we have one more surprise for you. Keep an eye out for our winter sale happening from December 4th all the way until December 25th. Once you enter our special code, you can buy two items to get one free!
4 Comments
marni Ortiz
Dec 28, 2019
Christmas with my daughter
Angie Powell
Dec 28, 2019
Being with my family and friends
Sheryl Arlt
Dec 28, 2019
Sitting around the table for Christmas Dinner with family
Janice L Youngblood
Dec 28, 2019
I love baking and decorating for the holidays then I can welcome family and friends int a warm home with goodies to eat.