How to Manifest More Gratitude This Holiday Season
It's that time of year: the leaves are changing color, and the spell of autumn is enchanting our lives.
However, the seasons changing also means the holidays are about to take over. Every. Hour. Of. The. Day.
The overwhelming combination of family events, presents, and obligations can take you out of the magic. But it doesn't have to feel that way.
First, let's all take a deep breath in… and out. And repeat. Then read this guide and realize that this year, you can appreciate what matters and put a value on the things that truly last.
📔 Write It Out 📔
Journaling is a healthy way to take a look at your life from an objective standpoint. To appreciate what you have, lay it all out.
Start with just the facts:
It's the holidays.

My family is visiting.

It's snowing outside.

 
Then move on to how that makes you feel:
Presents and joy are on their way.

I'm excited to hug my loved ones again.

I feel cozy and warm inside.
By journaling, you can analyze your thoughts and focus on the gratitude that's all around you.
It's so easy to get swept up in the season. Take your time and write about your day to forge those memories forever.
🤸‍♀️ Work It Out 🤸‍♀️
When gathering with loved ones outside your home, your workout routine can fall by the wayside. For so many, exercise is a grounding and essential part of life. Maintaining it during the holidays is essential to your sanity!
Try waking up an hour earlier than everyone else and practicing some gentle yoga to encourage strength and circulation in your body.
A brisk evening run can also get the blood flowing and clear the mind when you become overwhelmed.
🙌 Donate Your Time 🙌
Spreading joy is a tried and true way to feel gracious. Volunteer at a local soup kitchen, deliver presents to children, or participate in a gift wrapping drive.
We expect so much during the holiday season: huge meals, stacks of presents, roaring fires, carols—learn to let expectations go and focus on what matters.
There is someone out there right now that could use a hand. Will you reach out?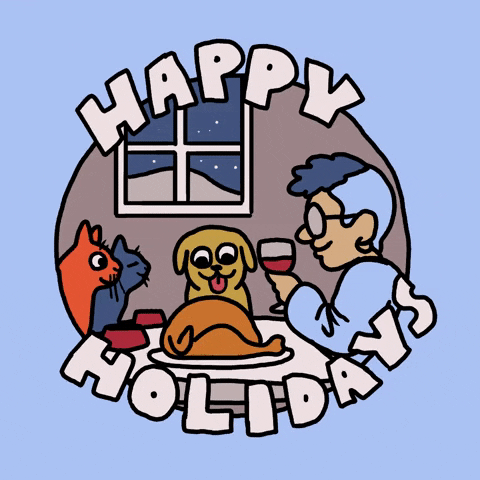 🎁 Always Give Yourself A Present 🎁
Sometimes, the holidays feel like an out-of-body experience. Everyone else comes first, and you can get lost in the mix.
Sneak in a present for yourself. You can wrap it and have a solitary moment of joy. Gratitude comes from within; love yourself, and be your own best friend!
If you're looking for a great gift from you to you — check out cool phone cases from Casely. Sparkle with the stars, picture your happy place, or make a bold statement.
Give yourself joy, give yourself Casely.
https://giphy.com/gifs/christmas-holiday-charlie-brown-RbDxrcG2deKnm
Celebrate the Moment
When it's late at night, bellies are filled, and the table is full of conversation and merriment, close your eyes. Take a deep breath, feel your body in the chair, and remember this moment.
-->