If you've ever doubted that there's a Casely case for everything, then doubt no longer! For this very special post, we've matched up one of our finely crafted cases with a popular emoji. A little esoteric, we know, but our design team works hard to create these beautifully unique smartphone cases that have a place in every situation. This blog post is here to prove it!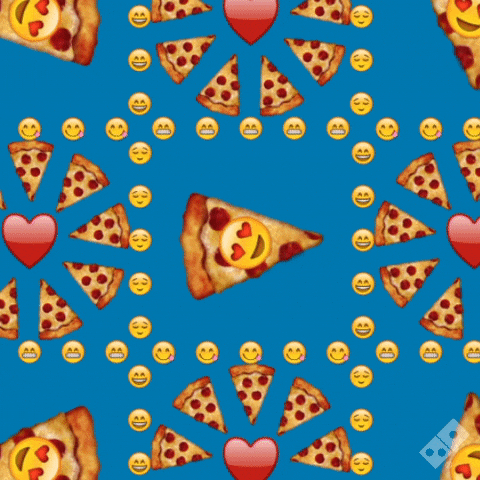 🍕 + Pizza and Lips Clear Case
Pepperoni or plain cheese? Meat lovers or vegan with a cauliflower crust? Whichever kind of pizza you like to chow down on, we support you wholeheartedly! Don't be constrained to a single emoji any longer – our Pizza and Lips Clear Case is here to help you announce your 'za love to the world.
The simple red heart emoji is a classic – and so is our I Heart Tie Dye Case! That time-honored heart shape is versatile, whether your texting your grandma or your beau. Likewise, this case goes great with any outfit in any occasion for all you love-lovers out there. Peace! ✌️
If this is your favorite emoji, you're either an aspiring astronomer hoping to find life on other planets... or you're just a huge fan of the The X-Files. (Or you're actually an alien yourself!) Regardless, the stellar pattern on this Out of this World Astronaut Case is sure to delight your enthusiasm for all things galactic and space-y.
If you use this cheery sunflower a lot, you're probably as equally bright and cheery in real life! If that's the case (ha!) and you want to bring even more glorious sunshine-y goodness into your life, check out our Bright Yellow Sunflower Case. It's the next best thing to carrying around actual sunflowers all the time!
Is a single red rose anything other than demurely romantic? With velvety petals dyed a deep crimson, the rose emoji is an effective way to encapsulate your sense of burning passion into a single emoji. The Blooming Red Rose Club Case, which our Casely subscription members are already intimately familiar with, helps you capture that same alluring mystique in your day-to-day life... without the thorns, of course.
There's not a single person in the world who can say no to a donut, tbh. We bet this emoji is your fave because you're always the one in the group chat to suggest getting a box of those chocolate glazed bad boys, whatever the occasion. Our Holographic Donut Clear Case will help you keep your cravings in check until you can take that first jelly-filled bite of bliss.
Who else got the latest iOS update and immediately found their new fave emoji? This rootin', tootin' guy is just a regular smiley with a cowboy hat, but that hat just changes everything. It's like discovering a new emotion. Anyways, this town is big enough for the two of us – 'us' being our ten-gallon pixel friend and this cute Cactus Patterned Clear Case. Yeehaw!
---
LATEST ARTICLES
Summer Kickoff — 5 Fashion Trends to Lookout for in 2022
Posted on
Summer is right around the corner, making it the perfect time to prepare your wardrobe. We think you'll enjoy these trending looks with styles so cool your fit could totally...
About The Trevor Project - June's #EveryCaseCounts Charity Partner
Posted on
At Casely, we're devoted to creating the most fun, stylish, and protective phone cases on the market — but our dedication to making the world a better place runs deeper...
It's Gemini Szn! How to Keep Up with Your Gemini Bestie This Summer
Posted on
Of all the zodiac signs, Geminis have earned quite a reputation. Drama in your friend group? All eyes are on the Gemini. Need some help crafting the perfect text comeback...