If you've been following Spring/Summer 2021 fashion trends, you'll have seen that this season's jewelry looks are all about vibrant color and charms.
As reported by Cosmopolitan, you'll see lots of beaded jewelry, resin rings, charm-adorned moon and star earrings hitting the stores - anything colorful, cute, and almost childlike.
But instead of digging out your middle school charm bracelets and resin sunflower earrings, in this guide we'll show you how to update this summery trend for 2021!
Resin Jewelry
The model above accessorizes her statement pink resin earrings with a cute pearl charm necklace, and of course, our minimal I'm With Her | Black & White Boobs Case.
Resin jewelry is made by pouring liquid resin into a mold, adding dye (or even glitter or gold foil), and leaving it to set so that a beautiful piece of jewelry is made. It can come in all colors of the rainbow and make just about any shape as long as a suitable mold is used.
While resin isn't the easiest to work with, lots of sellers on Etsy and Depop have started making their own - so you don't have to buy from big stores at huge prices to get your own pieces!
Resin rings with jewel studs are really popular this season: track one down for yourself!
Beaded Jewelry
Beads are huge this season, whether that's resin beads, pearls, or shiny colorful beads made from plastic or wood - anything goes! Get creative with bracelets, necklaces, and even phone chains in candy hues to be a part of this sweet trend à la @torie.bliss. Want a new DIY project? You can easily get assorted beads online and a chain or elastic to make your own pieces!
If you prefer something understated and classy, a beaded pearl necklace like Torie models below is perfect!
Pair your beaded jewelry with simpler accessories so it steals the show, like a block-color bag and a monochrome phone case, such as our Current MOOd | Cow Print Case.
Make It Charming
Dangling charms are key this season, whether they're colorful bracelets, metal pendant necklaces, or pearl hoop earrings.
You can either build your own pieces - attach charms to existing jewelry you have - or buy them ready-made. It's up to you! Whatever you do, make sure it's something eye-catching! 👀
What's great about this trend is that you can wear it with anything. Make your outfit as loud and bright or as simple as you like, and your charms will always work!
Have Fun!
As you can tell, this season's jewelry looks are all about color and playfulness.
Better yet, many of these looks are easy to recreate yourself - you don't need to spend a fortune to wear these trends!
Have a go at making your own beaded, resin, or charmed pieces for yourself and friends 💖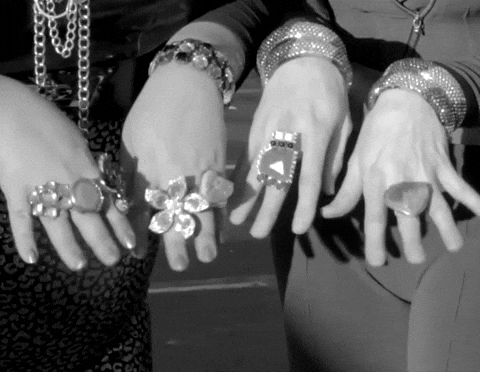 ---
LATEST ARTICLES
5 Must-Have Items to Take on Spring Break
Posted on
Do you hear the birds singing? Spring is here! And that means spring break is right around the corner. You can spend spring break in many ways, from sleeping out...
Cozy Fashion Must-Haves and 3 Wintery Cases to Complement
Posted on
We're officially into winter, and although you might be unhappy about the colder weather, one way to lift your spirits could be to reinvent your style.  The start of a...
Escape the Frost! 6 Fun Indoor Activities to Keep Charged Up This Winter (& Power Pods to Match)
Posted on
Winter can feel like a waiting game, but don't twiddle your thumbs looking for spring. You can do loads of exciting and fun activities in the meantime!  Check out the...