MAYDAY: Transition into Summer with These Summery Styles
After a couple of months stuck indoors, May is finally upon us and looking brighter than ever. As we transition into summer, you can expect to spend more time outdoors with friends and escape the monotony of sitting shuttered inside the house. To prepare for the impending warm season, check out these five cases that radiate summer vibes!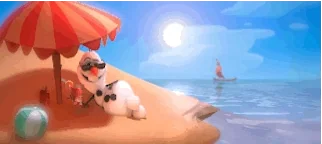 Nothing sings hot weather and freedom like escaping all of your responsibilities for a little and frolicking in a field of flowers. Encapsulate this mood with our Field of Flowers Pastel Floral Case. It features blue, orange, and pink flowers and leaves laid out across a pale pink background. This accessory is the perfect companion as you seek out the most picture-worthy spots for all of your on-trend summer Instagram posts.
Are you longing to be by the water? Even if you live far from the coast, our High Tide Layered Ocean Waves Case will emit beachside vibes all season long. This laid-back surfer's accessory depicts a pastel arrangement of orange, gray, and pink waves that sit below a peaceful purple sky. If you do live by the beach, take this case along with you to capture the perfect shots as you're riding waves or sunbathing on the sand.
Summer is when everyone heads for the outdoors. This Leaf Me Alone Green Floral Print Clear Case is an adorable accessory that gives off natural vibes. Whether you want to spend your days hiking in the great outdoors or relaxing in a canopy, you should have the right phone case to match your vibe. This product's pure aesthetics let your phone's true color shine through while giving it a summery touch of character.
As exciting as summer days are, don't forget about the irreplaceable memories that summer nights can bring! From sitting around campfires to looking for shooting stars, these warm, languid nights are magical times.
The unique gradient of purple, pink, and blue depicted in this case is reminiscent of a colorful summer night just as the sun is beginning to set. Pick up this accessory today for a case that is cute, protective and that you can use to capture all of your fun both during the day and at night!
As you're out and about this summer, consider rocking our Out And About Light Pink Floral Case. This ultra-feminine accessory depicts multi-colored flowers that rest on top of a pale pink background. The flowers, drawn in a unique kind of water-colored style, gives you the chance to show off your artistic side as you spend your summer days exploring outside.
Summer is approaching fast, so make sure you don't get caught off guard! One of these stunning and protective cases will help you live out your dream summer fashionably!