Spring Cleaning Checklist — How to Clean Your Phone Case
If you've never deep-cleaned your phone case, what better time than the spring?
Cleaning your case means eliminating dirt, oils, and bacteria from your phone. You should give it a deep cleanse once a month and sanitize it weekly.
If you haven't been doing this, don't panic as there's no better time than the present. Cleaning is easier than you might think, and you don't need any special treatments.
What You'll Need
1 cup warm water

1-2 drops dish soap

A clean toothbrush

Baking soda (optional)
1. Remove the Case From Your Phone
Begin by gently removing the case. Stretch a corner and lift until you can pull the device out completely. Unless you want to upgrade phones in the near future, don't ever clean your smartphone case while it's still attached to your phone.
2. Wash Using Soapy Water
Add one cup of warm water to a bowl. Splash in 1-2 drops of dish soap and stir the mixture until it's slightly foamy. The warm water makes sure the soap dissolves properly.
⚠️Warning⚠️: Do NOT ever use harsh chemicals to clean your case. Avoid household cleaners, anything with ammonia, aerosol sprays, or cleaning supplies that contain hydrogen peroxide.
3. Scrub With a Clean Toothbrush
Using a small brush (preferably a toothbrush), clean your case. You'll want to dip the toothbrush into the soapy water and gently scrub your case for 1-2 minutes using circular motions.
Focus on eliminating stains or stubborn dirt. Dip the toothbrush back into the soapy water as needed to ensure a glistening cleanse.
If you come across hard-to-remove stains or dirt, sprinkle a pinch of baking soda directly on the case and continue to scrub using the toothbrush. Baking soda is excellent at lifting stubborn patches of dirt or oil.
4. Rinse Under Water
After you've scrubbed thoroughly, rinse the case under warm water. Rub it as you rinse to make sure you're removing all soap remains.
5. Dry Thoroughly
Using a paper towel, dry your phone. Then, let it sit out for an hour to make sure it dries completely. You don't want to put it back on your phone right away; otherwise, you risk damaging it.
6. Sanitize It Weekly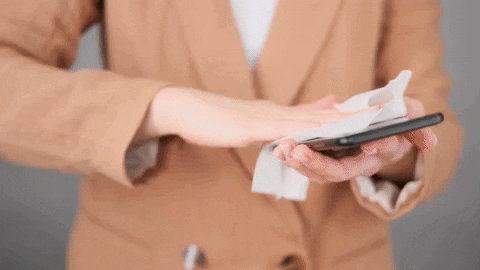 Having a clean phone case doesn't end here. You now want to keep germs away by sanitizing it weekly. Disinfect both the inside and outside using a disinfecting wipe or a cotton ball infused with isopropyl alcohol.
Before placing it back on your phone, let it sit for 5 minutes or until completely dry.
Final Thoughts
So, what are you waiting for? Clean your smartphone case and check it off your spring cleaning list.
For best results, wash it once a month and sanitize it weekly. This way, you'll minimize the amount of dirt, stains, and bacteria. Happy spring cleaning!