Get the Luck of the Irish with these Emerald Green Cases!
Need to put the finishing touches on your St. Patrick's Day outfit? Check out these green phone cases! 🍀🍀
They're super cute, protective, and festive. Best of all, all green cases on our site are 30% off on March 17th! Shop today!
One of the best parts about St. Patrick's Day? The food! People enjoy corned beef & cabbage, Irish soda bread, and shepherd's pie.
Avocados usually aren't part of a St. Patty's Day menu. But, you'll love our Avocado Rose Gold Clear Case regardless. 🥑
This case features hues of green and rose gold, making it perfect for the occasion. It's also clear so you can show off your phone's true colors. Bonus points if you have a green phone!
Pay homage to the Irish countryside with our sweet Leaf Me Alone case! 🍃
Green, white and gold phones will look amazing peeking out from behind the clear body of this case from our Classic collection. Grab the same design from our Bold or Power 2.0 collections for a more protective and opaque cover to keep your phone safe during your celebrations!
Our tea green Swirl Away design is perfectly simple. It will make a great pairing with any St. Patty's Day outfit you have planned.
As a bonus, the swirly pattern is reminiscent of snakes. But, what do snakes have to do with this holiday? 🐍🐍
Legend has it that St. Patrick climbed a hilltop in Ireland. With just a wave of his staff, he banished all snakes from the island. (Snakes never existed in Ireland in the first place. But, we don't have to tell St. Patrick that. Why spoil his fun?)
This holiday is always a lot of fun. Especially for kids.
As a kid, you heard stories about leprechauns and pots of gold. You did coloring pages and fun crafts. You went to parades and caught beads. You wore green and pinched your friends who didn't.
Relive some of the magic with our You're Dino-mite case. It features plenty of green hues and will help you embrace your inner child. 🦕🦕
Our Color Me Happy design has plenty of green in it. But, it also features tons of other colors and fun patterns. It will go perfectly with all the beads you get this holiday. It's also reminiscent of a rainbow that leads to a leprechaun's pot of gold! 🌈🌈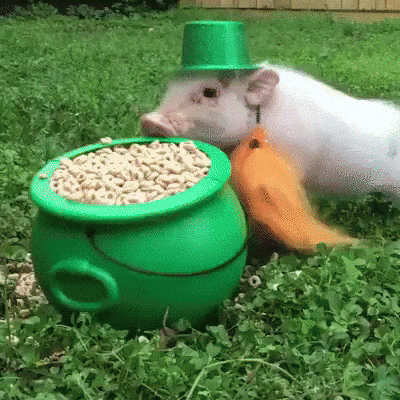 Here we have yet another colorful case with green as its focal shade. Our Veneta Tapestry design is super trendy and will look great with a hipster St. Patty Day's outfit. This accessory is especially popular among leprechauns who go to Coachella…
So, there you have it. These are some of our best green cases for St. Patty's Day. They will help you complete your outfit (and prevent you from getting pinched).
Order yours on March 17th to get 30% off any green case on our site!